Bone thugs-n-harmony first 'Crept On Ah Come Up' in the early 90's. They were broke and hungry to make it in the rap game. They first went to LA, California on minimal savings and auditioned for rap star, the great Eazy-E over the telephone. Eazy never replied back to them. Soon after that Layzie Bone, Krayzie Bone, Wish Bone, Bizzy Bone, and Flesh-N-Bone got their first real chance to show their talent when Eazy-E was doing a show in their hometown Cleveland, Ohio. They hustled up some money and went back to Cleveland and auditioned live backstage for Eazy and he signed them to Ruthless Records on the spot.
After a few weeks they were in the studio recording their debut album, "Creepin' On Ah Come Up". The hip-hop heads were stunned with their fresh new style of raping and the album went to sell over two million copies. Bone Thugs followed that album with the release of their five times platinum LP, "E. 1999 Eternal" which debuted at #1 on top of the pop charts. The group made history with their hit single, "Tha Crossroads" which helped them win a Grammy and they tied the Beatles "Can't Buy Me Love" as the fastest rising pop single ever. That album put Bone on the map and it would not stop from there.
The group returned in 97 with their next album "The Art Of War", which for a double disc album had some great hits, but if it were a single disc album it would have been rated better by the critics. In the late 90's, the group concentrated on developing artists signed to their own Mo Thug Records label. Bizzy, Krayzie, Layzie and Flesh also released very successful solo albums. Then in 2000 the group reunited to record BTNHResurrection which would stop the rumors that they were broken up. "BTNHResurrection" probably one of Bone's best albums after "E. 1999 Eternal" debuted at number 2 in March 2000, but could have sold more if it were promoted better. After the release of that album they went on resuming their solo careers.
In 2002 the group got back once again with everyone back in the group though Flesh-n-Bone was in jail for threatening a friend with an AK-47. They went to release "Thug World Order", which was a good solid album, but not as good as the die-hard Bone fans would expect from them.
They are one of the most underrated rap groups ever but they are still the best to millions of people all over the world. Even through all the hard times with the group and family problems Bone Thugs still managed to become very successful. They are the only rap group that has worked with rap legends like Eazy-E, Tupac Shakur, and Notorius B.I.G. They came in the game with their original style and they will go down as one of the best groups in the hip hop history books. This is not the end of Bone. This is only the beginning for Bone Thugs-N-Harmony, there is a shit load of more to come.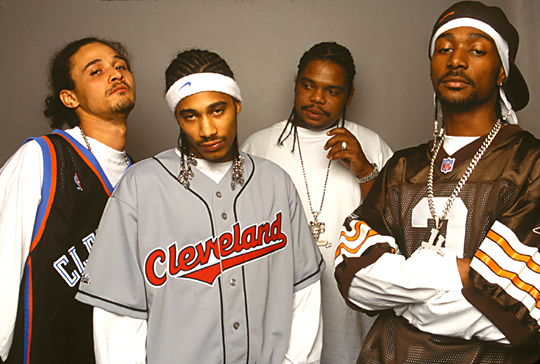 Career highlights:
Bone Thug's debut EP,
Creepin On Ah Come Up
came out in 1994 and peaked at No. 12 on the Billboard charts. It had two major hits: the popular song "Thuggish Ruggish Bone" and "For the Love of Money."
Their debut LP, E 1999 Eternal was released 1995 and debuted at No. 1. The set featured the smooth welfare anthem "1st Of Tha Month" along with the title track, but it was the track "Tha Crossroads," a mainstreamed remix of "Crossroads" that took the album to its pinnacle of multi-platinum success. The spiritually moving tune earned the group a 1996 Grammy for best rap performance, tied the Beatles' 32-year-old record for the fastest-rising single and remained at No. 1 for eight weeks.
The double-disc Art of War came out in August 1997, and saw the departure of Flesh-N-Bone who went on to an unsuccessful solo career. The set also didn't do well for the remaining members and despite mixed reviews, the album garnered two hits, "Look Into My Eyes," which rose to No. 4 on both the pop and R&B charts, and "If I Could Teach the World," a song that had that radio-friendly vibe of "Tha Crossroads," but didn't make it as big on the charts.
The group seemed to fall apart after that, with a string of solo albums, none of which performed as well on the charts. The intricate nature of their unique harmonies failed to translate into staying power and 1997's Art Of War sold poorly. Although the members claim they never broke up the two releases, BTNHResurrection (2000) and Thug World Order (2002) were dubbed as reunions projects.